Traditional Ornaments
Traditional ornaments continue to influence even present gold designs and patterns of Kerala Jewelleries. Kasu Mala (Kaasumala), Palakka Mala, Nagapada Thali, Karimani Mala, Mullamottu Mala, Manga Mala, Cheruthali (Thalikoottam), Addiyal, Kashali, Poothali, Jhimki etc. remain an evergreen influence. Every household boasts of owning at least one of them. Even though it comprises only about 5% in case of the daily gold business, traditional gold ornaments remain a main asset of Kerala families.
Also there are many types of temple ornaments of Kerala origin namely Vilakku Mala, Erukkumpoo Mala, Sarapoli Mala, Vilwadala Mala, Mani Mala etc. sacredly treasured in major temples as Thiruvabharanam to adorn idols of Gods and Goddesses.
Foreign and domestic tourists buy gold from Kerala. They are attracted by the variety of special traditional designs, mostly Kasu Mala, Palakka and Jhimki which are very popular among gold lovers around the globe.
Following traditional ornament pictures are artist's impression of traditional Kerala jewelleries graphically created in designer's perspective. They are not photographs of any actual gold jewelry. KeralaGold.com is a fashion and jewellery portal with academic interests in jewellery styles and trends. We do not produce or sell any fashion or jewellery products.
| | | |
| --- | --- | --- |
| Nagapada Thali - 1 | | Nagapada Thali - 2 |
| | | |
| --- | --- | --- |
| Karimani Mala | | Mullamottu Mala |
| | | |
| --- | --- | --- |
| Manga Mala - 1 | | Manga Mala - 2 |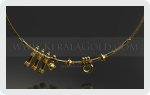 Mukkolakkallu
» 24 Hour Gold Price » Daily Gold Price Chart » Monthly Gold Price Chart » Yearly Gold Price Chart » Gold Price History » Gold Price Trend

Traditional

Kasu Mala

Palakka Mala

Nagapada Thali

Karimani Mala

Mullamottu Mala

Manga Mala

Kazhuthila

Cheruthali

Avilmala

Kandassaram

Kingini

Kuzhiminni

Pulinakhamala

Kumbilmala

Pathakkam

Lakshmimala

Poothali

Kuzhalmothiram

Thoda

Mukkolakkallu

Traditional

Modern

Stones

Birthstones

Diamond Jewellery

Designer Jewellery

Platinum Jewellery

Jewellery Designs

Gold Rates